Menu
The Fountainhead Cafe is humbled to serve you our very own house made products. All of our wares are made with our own recipes and blends. From our fresh ground , house roasted coffee, to our fresh fruit smoothies, to our crepes, everything that we offer is made to order.
$

3.00
COFFEE
A complex cup of coffee, made with our very own House Roasted Columbia / Puerto Rican blend! Instead of a glass pot that's been sitting on a warmer for hours on end, ours is individually crafted for you to enjoy in a French Press!
$

3.00
ESPRESSO
Hand pulled using our manual pull, Victoria Arduina Leva Espresso Machine, our Espresso's are served to you like they are in the old country!
$

5.00
CAPPUCINO/LATTÉ
The absolute best hand crafted Italian Coffee Drinks, anywhere. We steam our milk just enough where you can instantly enjoy them upon being served as opposed to waiting for a cup of scalding hot liquid to cool down.
$

5.00
ICED COFFEE
A smooth Iced Coffee that is our hand pulled Espresso, poured over ice and then topped with either Whole, Almond, Soy or Coconut Milk.
$

5.00
The Frappe
The authentic Grecian version! Shaken, and served cold!
$

5.00
The Basic White Girl (BWG)
Take some espresso, take some ice, add some flavor, press blend (2 points if you guess why we called it that)!
$

3.00
Turkish Coffee
A few years ago, we stumbled onto a coffee shoppe in Istanbul, Turkey and smoked Hookah and drank Turkish Coffee. We brought back the Turkish Coffee, and now serve it to you in the traditional manner!
FLAVOR
All of our flavours are house made syrups made with Sugar Cane, and real spices and herbs. No additives or preservatives or HFCS' were harmed in the making of these liquid, sweet tooth fixes.
$

3.00
Assam Black Tea
A black Tea that originates from Assam, India
$

3.00
Chamomile
A daisy like tea, that is known to induce sleep and relaxation
$

3.00
Rooibos
A red root tea from South Africa
$

3.00
Silver Needle
Or in the native tongue Baihao Yinzhen, is a white tea from the Fujian Province in China.
$

3.00
Oolong
A Chinese tea, that was once known as a "Tribute Tea"
$

3.00
Yerba Matte
A Southern Brazilian Green Tea, known for it's Anti-Oxident properties, as well as natural energy.
$

3.00
Earl Gray
A British Tea that is always served "Hot".
$

3.00
Peach Tea
A Southern favorite
$

3.00
Mango Tea
Dried Mangos in a black tea
**NOTE**
All of our teas can be served iced!
$

5.00
Matte Latté
Yerba Matte, with Steamed Soy and Honey
$

5.00
London Fog (Earl Gray Latté)
Earl Gray Tea, with Vanilla Bean Syrup and Steamed Milk.
$

5.00
Cinnamon Rooibos Latté
John's Favorite! Rooibos Tea, Steamed milk, and our very own Cinnamon Syrup!
$

5.00
Sundrop
Described as running through a field of daisy's on a summers day, Chamomile, steamed milk, Farmers Market Honey, and Cinnamon
$

5.00
The MINTY (not Misty) Mountain
Black Assam Tea, with Steamed Milk and Mint! Inspired by some British Book...
$

5.00
Chai Latté
Brewed in house, in front of you, using fresh Cardamon, Cinnamon, Ginger root, and Clove, our Chai has been described as "Well Balanced", and "like drinking Christmas".
$

5.00
The Midori
A matcha tea latte, often times used in Japanese Tea Ceremonies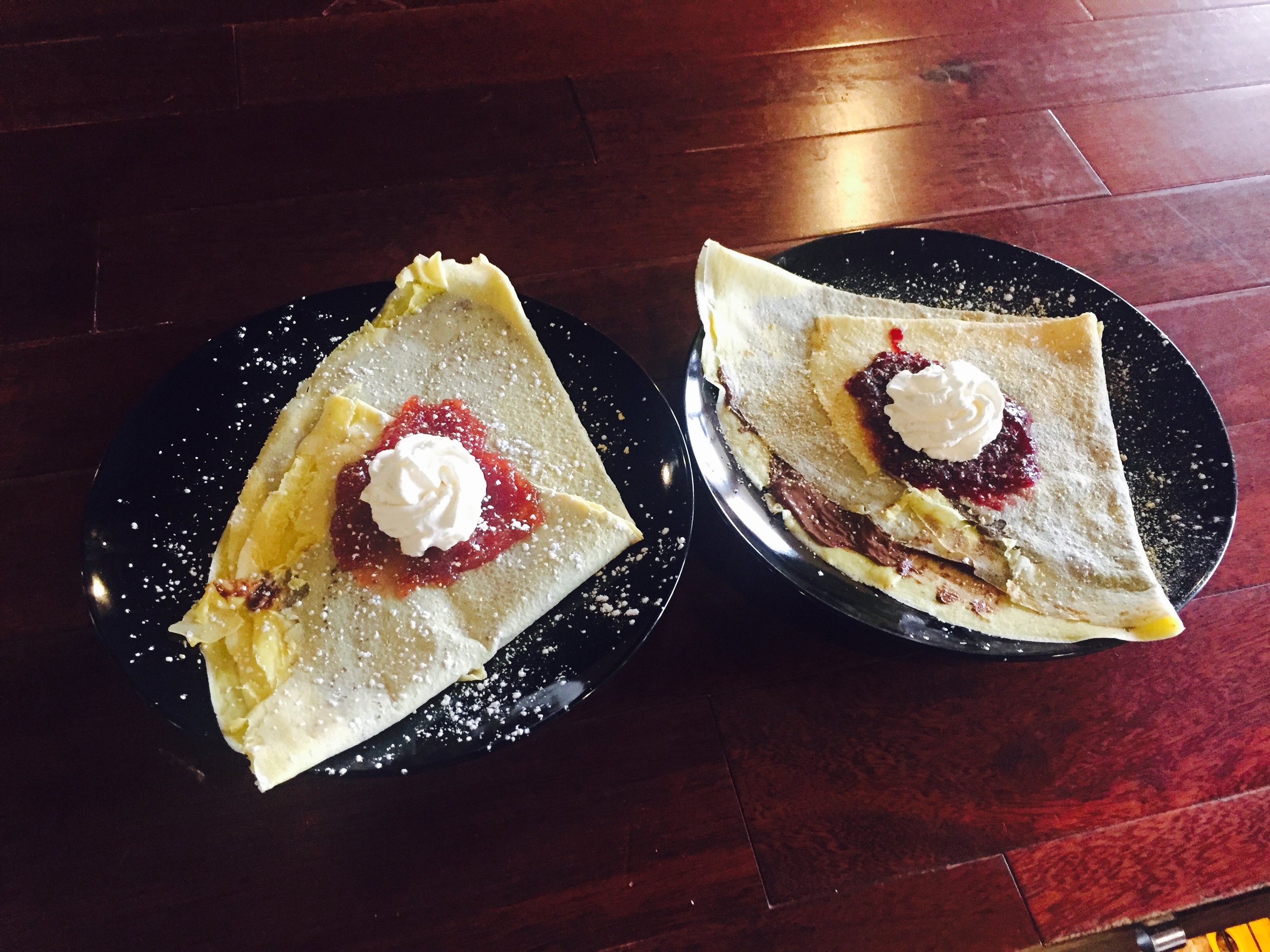 $

8.00
The S'Mores Crêpe
Toasted Marshmallow, Dutch Chocolate, sprinkled with Graham Cracker, and a touch of chocolate syrup, and you have the S'Mores Crêpe!
$

8.00
Brown Sugar and Butter Crepe
A traditional French Crepe, filled with brown sugar and Kerrygold Butter, and topped with Carmalized Sugar -- this defeats ALL sweet tooths!
$

8.00
Fluffer Nutter Crêpe
Marshmallow Fluff and Peanut Butter... There's not much more to say for this diabetic coma in a french pastry!
$

8.00
Chocolate Nutella Crepe
Almost like having a Nutella Stuffed Brownie, a delightful desert for the sweetest of teeth!
$

8.00
The White Crepe
White Chocolate melted inside a crepe, and then rolled up and covered in Organic Peanut Butter, and then lovingly dusted with Graham Cracker -- a crepe for a more discerning palate
$

8.00
The Cinnamon Bun Crepe
if you like Cinnamon Bun's you'll love our Cinnamon bun crepe, topped with our own house made icing.
$

8.00
Cookies and Creme Crepe
One day we bough Oreos and wondered "what can we do with Oreos?" We figured out that we could mix them into a Cream Cheese Filling, and then put them on crepe!
$

8.00
Frahm's Stroopwafel
Our dear friend who is a flight attendant brought us a Stroopwafel one day. A few weeks later we found that we could buy them in bulk. THEN we filled a crepe with Nutella, warmed two Stroopwafels over it, and then made Caramel Whipped Cream to go on top -- And that is Frahm's Stroopwafel Crepe.
$

10.00
Specialty
Crepes that do not exist anywhere else on the menu, only in our heads at the time! Always changing based on the season and what tastes good!
$

5.00
Peanut Butter Smoothie
Real Banana's, Real Peanut Butter, Real Smooth.
$

5.00
Coffee Banana Smoothie
Iced Espresso, Banana's, Chocolate, and, GO!
$

5.00
Strawberry / Strawberry Banana
The first smoothie we ever figured out how to make properly!
$

5.00
The Breakfast Smoothie
Hearty and full of goodness, it consists of Organic Peanut Butter, Bananas, Oatmeal, Chia Seed, Honey and Soy -- A great smoothie that is sure to get you through the day!
$

5.00
The Cookie Monster
One day Angel started throwing things in the blender... And a monster was born... a Cookie Monster.
$

5.00
The Scout Mint
Who doesn't love those cookies that those adorable little grifters sell once a year? While our smoothie doesn't contain any actual scouts, it does consist of Oreo and our house Mint Syrup!
$

5.00
Multiberry
If you say it fast, and you have an affinity to late 90's Sci-Fi, it almost sounds like something else. We will give you a pass if you don't it ;-)
$

5.00
Pineapple and Coconut
Do you like Piña Colladas? This is a lot like a Piña Collada. It's such a fun thing to say: Peeeeennnya Cohhh laaaaaaa daaaaah.
$

5.00
Hot Cocoa
We take Dutch Cocoa Powder, Dark Chocolate Chips, and our House Syrup, and melt it down into a decadent hot chocolate.
$

5.00
Angel's Elixir of Hot Joy
Everything that you just read in the Hot Cocoa, with Nutella.
$

5.00
ex_nihilo
Our Chai and Hot Cocoa mixed together, creating a spiced Hot Cocoa
$

5.00
Sachlav
A beverage that Angel picked up during our last trip to Israel. It's kind of hard to explain, but it is essentially a very thick latte.
$

5.00
Steamer
Steamed milk + House Syrup. It's a happy beverage
$

10.00
Racticcino
A recipe from the ancient tribe from the the lost valley of Q'nos, from the House of Kah'less, a warriors drink.